So Noumena11 and I left the hotel this morning for our first excursion around Toronto...whew, I need a break. Below is an image of the map of Downtown Toronto. I've marked it with our route for the day. The
red
line indicates where we took public transportation. The
blue
line is what we walked.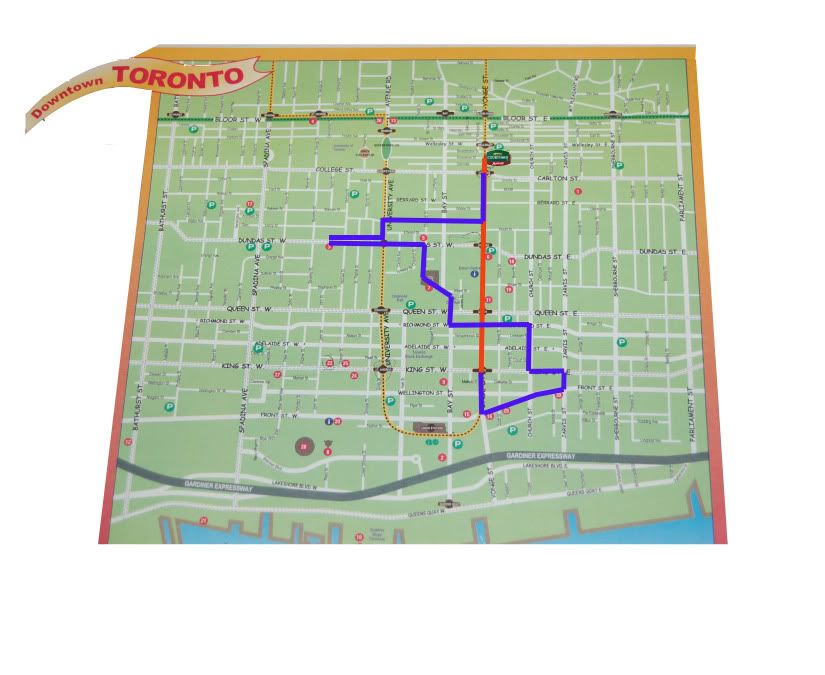 Now, do you understand why I'm exhausted????
We went to
Hoare's Books
(on Front Street) first...it is a lovely little bookstore that reminds me of the homey, old fashioned style of bookstore...hardwood floors, couches, chairs, and fireplace...probably a great place to spend a cold Canadian afternoon.
A few stores down we found an awesome Morrocan restaurant called
The Sultan's Tent & Cafe Mor
oc. What a great find! We had a Tapas-style lunch with several small plates that we shared. I tried a South African
Bon Courage
Sauvignon Blanc that was very nice and John had a Waterloo Ale.
HARIRA: A hearty tomato broth of chick peas, kidney beans, lentils and a blend of Moroccan spice
KESKESU: An exotic large couscous with cremini mushrooms, almonds, sun dried tomatoes and crumbled feta cheese.
MAFTOUL: Hand rolled "Moroccan Cigars", hot crispy pastry stuffed with mildly spiced beef, cashews & raisins, served with chipotle aioli.
CHÈVRE BRULÉE: Sugar flamed imported aged Rondin de Poitu goat cheese, served with a red onion jam and a port cassis syrup.
We finished the meal off with some Morrocan Tea.
After we walked through the
St. Lawrence Market
(what a great way to shop for food!) we found this lovely little park that Antheras had told us about (near King & Church). John did some sketches for his art project and I took some photos for him to use. It has the potential to be a very interesting drawing.
Next we headed over to
City Hall
on our way to the
Art Gallery of Ontario
. We stopped by the
Student Gallery
first then went through the museum. It is currently under construction so there was limited gallery space open. Oh yeah, and John HAD to stop by the art supply store.
We ended our walk back at Second Cup (wanted to sample the local coffee house) by the hotel where I released a few books.
Now it is time for a little reading and a nap! Next up....Toronto at night!